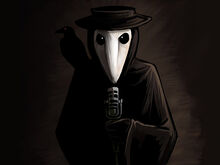 Biography
George the Crow first appeared with the flock of crows who summoned Corvus-Wrax to the Hidden Almanac Test Garden. When Corvus-Wrax and the flock were dragged back through the inter-dimensional rift, George was left behind. Attempts were made to find him a new flock, but DNA tests revealed he is a unique breed and the test garden was declared his natural habitat (thwarting the plans of CharmX). He was adopted by Reverend Mord, who keeps George comfortable in the recording studio with a space heater and industrial metal music. George's favorite foods are Cheetos and candy corn. He dislikes crow food (even the organic crow food) and frogs.
George has an advocate from the Royal Ornithological Society, who has never been seen and communicates by slipping letters under the studio door. George recently began talking to a fish crow in the garden.
George is an excellent crow.
Mentions
Community content is available under
CC-BY-SA
unless otherwise noted.